Loire Valley Fair 2018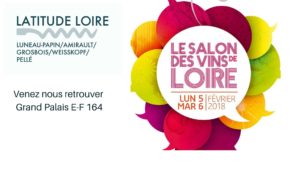 We have just splitted up on LATITUDE LOIRE's shared booth… Your eyes, your taste buds are still seeing and tasting stars!

And you wish to learn some more!
What did you taste again? There were quite a few wines..!
We ware going to resume all this pojnt by point if you please. ?
Once upon a time, in the Muscadet region, and in Sèvre & Maine to be more precise… !
The Sèvre and the Maine were two rivers affluent of the Loire (the last wild river of Europe).
We have been cultivating some plots, inherited from our forefathers, who had inherited theirs from their forefathers, and this for 9 generations.
We have been planting grapevine. 2 main varieties : melon de Bourgogne and folle blanche. A little pinot noir, chardonnay and gamay.
Pierre Marie's parents thought that putting their juices all together in the same tank would be a waste, so they splitted the harvest plot by plot.
They waited for the perfect maturity of the grapes before picking them and for the perfect moment before bottling the wines… 10 years in 1976.
The story tells they would have religiously tasted their wines every year. They were certainly not in a hurry, like are happy people! It is of course well know that muscadet makes people happy !
Then, since 2005 for Pierre-Marie and 2008 for me, we carry on their knowledge, we refine, we tweak, we try, we taste in friends' cellars all around the world and we learn each day passing by.
It results in a wide collection of highborn cuvées:
On vintage 2018 4 raugh wines to give you the beat and tease you before their official release in a few months !
Clos des Allées * Les Pierres Blanches * L d'Or * Terre de pierre
To grab a drink and water oysters:
Because Muscadet of the year is always a good idea :
La Grange vieilles vignes 2016
Things look different when we take more time:
You know that our domain hides each year a secret number of bottles on 3 different cuvées, L d'Or, Terre de pierre & Excelsior.
Here is the list of those tasted by a lucky few of you:
L d'Or
2014/2010/2009/2008/2007/1997/1995/1989
Terre de pierre
2015/2014/2013/2012/2010
Exceslior
2012/2009/2006/2005/2003/2002/2001
Pueri Solis
2009/2005
Here you can find all restaurants wich promote our wines, some of them are brillant like stars !
Many many thanks for coming visiting us.
Take care of you all.
Pierre-Marie & Marie Luneau
---
2018 will be generous and luminous !
La vie est faite d'une multitude de bonheurs. Le ciel est clair puis le ciel est sombre mais notre métier continue d'exister grâce à chacun de vous.
Life is made of a multitude of joyful moments. Sky is blue, and the moment after it is dark, but our work is going on and still exists thanks to each of you.
Nous sommes multiples dans nos vies de vignerons.
We are multifaceted in our vine growers' lives.
La terre, le vin, les Hommes et les 4 éléments  comme autant de saisons qui composent une année, rythment  nos envies, nos doutes et nos espoirs.
Earth, wine, Human beings and the 4 elements like the seasons composing a whole year, give their pace to our wishes, our doubts and our hopes.
Nos mains tendues vers le ciel et nos pieds enracinés,  nous trinquons à la joie d'être ensemble reliés au fil des dégustations !
Our hands raised towards the sky and our feet deeply rooted in the earth, we drink to the joy of being bound together by tasting's path!
Amitiés vigneronnes chaleureuses de nous 4
Warm wishes from us 4
Pierre, Monique, Pierre-Marie & Marie Luneau