We've been there since Thursday!
The clicking of the secateurs and the resonance of the buckets which advance and hit the bottom echo in the rows of vines.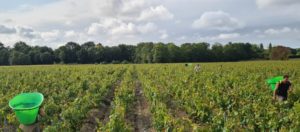 The seasonal team is very haute couture this year, commensurate with the returns we will be making.
Last year they were 70 every day with us to survey the vines, this year, they are 23!
The spring frost having harvested well before the hour, it is only very few bunches which will do us the honor to join the press.
Here too, we will adapt the containers to the volume we will harvest.
We will therefore favor the experimental cellar as we call it on the estate where French and Austrian barells and sandstone eggs come together.
It's a year to be taken in giraffe mode, therefore, with height and a good dose of humor.
A year in which long-thought-out projects will see the light of day since, for one more year, time is offered to us.
A year to polish our diamond domain a little more and shape it in our image.