The Luneau-Papin estate has undergone an overhaul of its agricultural model over the years and since 2008.
Organic farming has been strengthened in its vitality by biodynamic farming since 2014.
The estate is also certified and adheres to Biodyvin and Demeter since the 2019 vintage.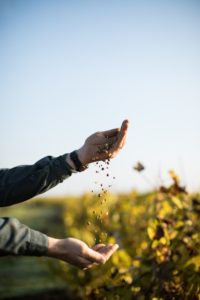 Why 2 labels?
Biodyvin is a union of biodynamic winegrowers. This discussion group supports us and enriches our practices and reflections.
Pioneer fields and young practitioners; this broth of winegrowers brings us a great diversity of points of view and backgrounds.
Demeter is an association that ensures the control and certification of French farms and companies according to the Demeter specifications linked to Demeter international.
This certification therefore has a scope in the 46 countries in which the field is currently represented.
For us, it is a multi-cultural enrichment, that is to say that breeders, cereal growers, market gardeners, processors (…) come to support the debate, the work and the journey with our team in the vineyards and in cellar.
Biodynamics means "force of life" and is best understood in a form of multi-cultural agricultural farm. We tend year after year towards this model which requires agility and new professional functions such as that of Ouessant sheep breeder or that of cultivating a vegetable garden which will feed the permanent team during the harvest.

These 2 labels are therefore very complementary. It is a cost for the domain and an investment in time (GA, tastings, follow-up of files) but we think it is worth it.
Because there is never just one way to see life, understand it and navigate it, we like to learn with our peers, colleagues and friends.