Chief Gérard Ryngel passed away last Friday.
All our thoughts are for Cécile, his wife, his partner in their Villa Mon Rêve, and to his son Jean-Michel, who spent many years by their side in the family restaurant.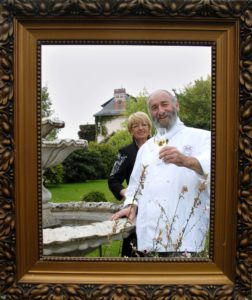 And then… Our thoughts follow the river of life and come back in our minds memories of this great Chief he was.
Always welcoming and friendly, unconditionally looking for fresh products. He would get up at sunrise for finding at the local market tights of frogs, pikes, pike perches, local vegetables  and make them just perfect. His desserts were tasting always perfectly measured, and at the good size for gourmands, like this unforgettable mille-feuilles in 2013, a few days before their last family service.
Gérard Ryngel was not from here but he was however the best and greatest ambassador for Muscadet Vine-growers.
40 years ago, he was already convinced that vine-growers had to sell their wines at a just price, that they should keep some of their bottles for years and sell them at higher price; this had never been seen in Muscadet!
On each cooking event he would open a bottle from here to impress his guests!
Gérard Ryngel was the Pierre Troisgros of ours.
A great chief, a great man for all Muscadet Vine-growers.
We owe him a lot
Thank you Mister Ryngel for your faith in us.
We salute you!
His funeral will take place on Thursday feb. 22nd at 2:30pm in St Nazaire's crematory.